As the world becomes more dependent on digital technologies, businesses of all sizes are becoming more worried about the threat of cyber attacks.
In fact, a recent survey conducted by EY found that 41% of businesses across APAC expect to suffer a major breach.
From phishing scams to data breaches, cyber threats cause business owners and IT leaders all over the world to worry more and more.
Cyberattacks can hurt not only the reputation of an organization but also its operations and financial stability in a short amount of time.
Getting help from a Managed Services Provider (MSP) is a good way to stay ahead of these threats. In this article, we explain how managed IT services can help your business stay ahead of cybersecurity threats and protect your valuable assets.
Proactive Monitoring and Detection
A reputable MSP will have access to the latest and most advanced cybersecurity tools and technologies, including threat detection and prevention solutions.
This service is essential in helping your business stay ahead of cyber threats by proactively monitoring your digital systems and networks for potential security breaches, and identifying and addressing any vulnerabilities that may exist.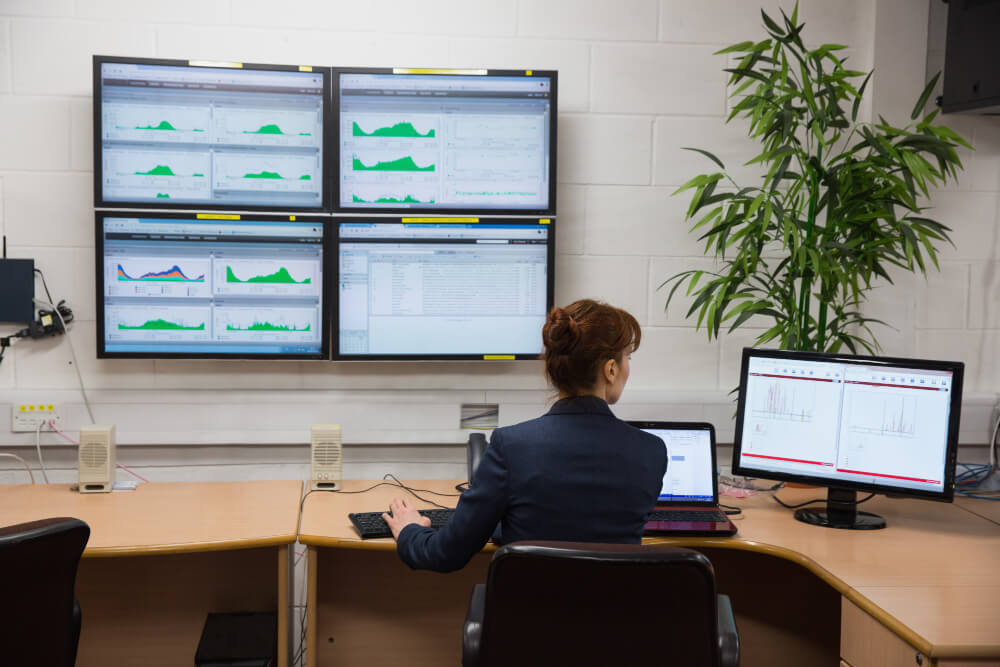 MSPs can respond right away if there is a possible security breach, reducing the risk and damage of an attack on your organization.
This method works better than waiting for an attack to happen and then trying to stop it, which can be more expensive and take more time.
The MSP will use a range of tools and technologies to find threats, such as Intrusion Detection Systems (IDS), Security Information and Event Management (SIEM) solutions, and vulnerability scanners.
They will look at the data collected by these tools and use it to evaluate how safe your organization's digital infrastructure is.
Then, if they find any vulnerabilities or threats, they will work to fix them, often in real-time, before they can do a lot of damage.
This may involve deploying patches or updates, closing security gaps, or isolating infected systems.
MSPs can also use data analytics and artificial intelligence (AI) to find new cybersecurity threats and trends. This lets them take steps to stop future attacks before they happen.
This is especially important because cyber threats keep changing and getting smarter over time.
Regular Security Updates and Patching
Cyber threats are constantly evolving, and new vulnerabilities are discovered regularly.
Cybercriminals may take advantage of these vulnerabilities without timely updates and patching, which could result in data breaches, system failures, financial loss, and reputational harm.
If you have a large IT infrastructure, it is hard and takes a lot of resources to make sure that all software and systems are up-to-date and properly patched.
MSPs have teams of security experts who are trained to find, manage, and put in place security updates and patches quickly and effectively.
They have access to advanced security tools and technologies that let them keep an eye out for vulnerabilities and threats, find them, and react quickly to any possible security incidents.
MSPs can also give you regular reports and updates on the status of your IT infrastructure and the security measures you have in place.
This gives you more visibility and control over your cybersecurity posture.
By allowing an MSP to handle your security updates and patches, you can make sure your systems and data are safe from the latest threats and free up your own staff to work on other important business tasks.
Employee Training and Education
According to Verizon's 2022 Data Breach Investigations Report, 82% of breaches involved the Human Element, including Social Attacks, Errors, and Misuse.
No matter how advanced your security systems are, your employees can still be the weakest link in your cybersecurity defense.
This is why it's important to teach your staff about cybersecurity and provide them with training to help them avoid common mistakes and be more aware of potential threats.
MSPs can provide cybersecurity training and education to your employees in a number of ways.
First, they can offer online training courses and modules that cover a wide range of cybersecurity topics, such as how to avoid phishing, how to manage passwords, and how to browse safely.
You can change these courses to fit the needs of your business and employees.
MSPs can also provide you with regular updates and reminders about the latest cybersecurity threats and best practices, through email newsletters or other communication channels.
This helps your team keep cybersecurity at the forefront of their minds and encourages them to be vigilant about potential threats.
Additionally, MSPs can simulate phishing attacks or do other types of cybersecurity assessments to see how aware employees are and find areas where they need more training.
This helps your employees identify potential weaknesses and address them before a real cyber-attacks occurs.
Incident Response Planning
Even with the best cybersecurity measures in place, there is always a chance that your business could be targeted by a cyber-attack.
According to findings from Kroll's State of Incident Response: Asia Pacific report, over half of all organizations interviewed in Asia Pacific (59%) have experienced a cyber incident, of which a third (32%) have suffered multiple incidents.
That's why it's important for your business to have a comprehensive plan that outlines the steps to be taken in the event of a cybersecurity incident, such as a data breach or cyber attack.
The purpose of the plan is to minimize damage, reduce recovery time, and maintain business operations in the face of an attack.
MSPs can help your business with incident response planning by providing expertise, resources, and support.
They can help identify the types of security incidents that may affect your business, assess the potential impact of those incidents, and develop a plan of action to respond to them.
Planning without testing beforehand can lead to unknown disasters, MSPs can also help you test and refine your incident response plans through regular testing and simulation exercises.
This can help you identify any weaknesses in the plan and ensure that it is effective in responding to a range of security incidents.
Compliance and Regulation
Businesses are subject to a range of compliance and regulatory requirements when it comes to cybersecurity, particularly those that manage and control sensitive customer information or financial data.
If you don't follow these regulations, you might get fined a good amount or get in trouble with the law, which could hurt the reputation and finances of your business.
Companies operating in Malaysia are required to comply with a variety of compliance and regulatory obligations relating to cybersecurity.
The Personal Data Protection Act (PDPA) is a key piece of legislation that requires businesses to protect personal data and stop data breaches.
Additionally, organizations operating in specific industries, such as banking and financial services, healthcare, and government entities, might be required to comply with additional cybersecurity regulations.
With all of these regulations that might cause a headache, MSPs can assist your business by providing expertise and support for compliance and regulatory requirements.
They can conduct assessments to identify areas where regulations aren't being followed and provide advice on how to do so.
MSPs can also set up and manage security controls and processes that help businesses stay in line with relevant regulations.
Additionally, MSPs can help your business get ready for audits and help you stay in compliance over time with ongoing support.
Conclusion
Cybersecurity risks are a constant source of anxiety for companies of all sizes, and the implications of a successful hack can be disastrous.
Managed IT services may assist your company in staying ahead of these risks by providing proactive monitoring and detection, frequent security upgrades and patching, cybersecurity training and education, incident response planning, compliance and regulation, and incident response planning.
Working with an MSP allows you to focus on building your business while leaving cybersecurity to professionals. You can protect your valuable assets and keep one step ahead of cybercriminals with the appropriate help.
Partnering with a reliable and experienced MSP
If you're looking for a Managed IT Services provider to help keep your business safe from cyber threats, AXO Technologies offer a wide range of cybersecurity services to help your business stay secure.
We are well-versed in compliance and regulation requirements and have worked with several notable companies in Malaysia to ensure their business is up-to-date with the latest industry standards.
Make your smart investment right now, protect your valuable assets, and ensure the long-term success of your business.
Don't wait until it's too late.
Click here to learn more about AXO Managed IT Services.